Jurassic World Live Tour
November 3-5, 2023
---

This November 3 - 5, your trip to Isla Nublar takes a terrifying turn when a rex escapes and causes chaos in the park! Join forces with the scientists to help put the chaos to an end, while experiencing some of Jurassic Park's most iconic dinosaurs.
With unrivaled arena production quality, Jurassic World comes to life against a backdrop of captivating scenery where dinosaurs from the iconic franchise, including fan-favorite Velociraptor Blue and a Tyrannosaurus rex more than 40 feet in length, take center stage. The production features more than 24 film-accurate, life-sized dinosaurs, with scale, speed, and ferocity, operated by animatronics and performers. Fans of the popular Netflix animated series Jurassic World: Camp Cretaceous will also recognize Bumpy, the friendly and food-motivated dinosaur, as she goes from baby to adult fairly quickly.
Jurassic World's unmistakable score combined with projection and practical scenery transforms the arena into the dense jungles of Isla Nublar, where real Gyrospheres roll through the valley and scientists work to unravel a corrupt plan and save anew dinosaurs from a terrible fate. With pulse-pounding stunts and an original, authentic storyline, this show is guaranteed to make memories that will last another 65 million years.
Group Pricing
Special group pricing is available for the 2023 WWE Monday Night Raw! This discount is exclusive only to groups that have 10+ members. The deadline to order group tickets is Wednesday, October 25 by 5 PM! For more information on group tickets reach out to our Group Sales Department at (860) 548-2000 or click here for the Group Sales Order Form.
Boy Scout Night
There is an exclusive discount for Boy Scout groups of 10+ members. Boy Scout Night is on Friday, November 3 at 7 PM. Tickets are first come, first serve and are $20. To order Scout Tickets, click here for the Scout Order Form.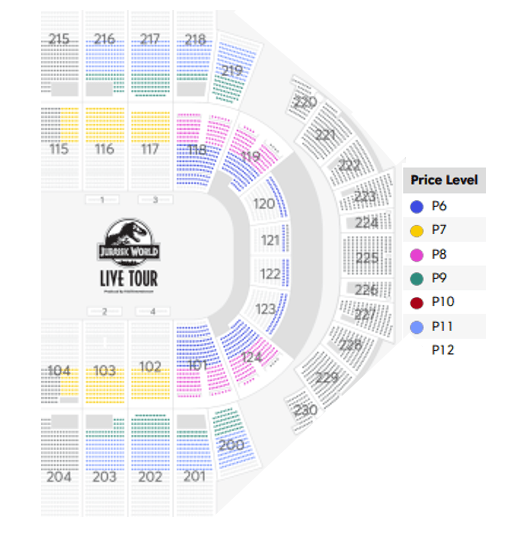 Price Level
Price
P6 / P7 / P8
$30
P9
$25
P10 / P11
$20
Friday + Saturday Pricing
Price Level
Price
P7 / P8
$30
P9
$25
P10 / P11
$20
Sunday Pricing
* Order charge of $5 per order.