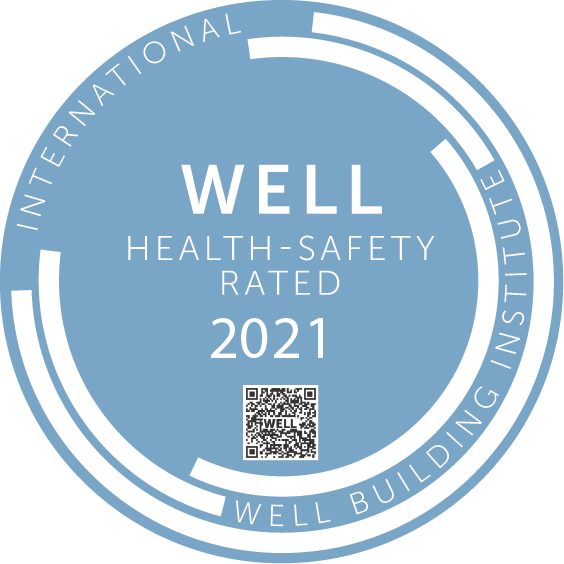 The XL Center has earned the WELL Health-Safety Rating through the International WELL Building Institute (IWBI). The WELL Health-Safety Rating is an evidence-based, third-party verified rating for all new and existing building and space types focusing on operational policies, maintenance protocols, stakeholder engagement, and emergency plans to address a post-COVID-19 environment now and into the future.
Designed to empower owners and operators across large and small businesses alike to take the necessary steps in order to prioritize the health and safety of their staff, visitors and stakeholders, the WELL Health-Safety Rating can help guide users in preparing their spaces for re-entry in the wake of the COVID-19 pandemic, instilling confidence in those who come through the building as well as the broader community.
Related to our WELL Health and Safety rating, the XL Center made the following upgrades to the building over the past several months
Installation of UV lights – Every HVAC air handler has been equipped with a UV light system to clean and sanitize air as it passes through the unit. It disinfects the air and kills air-borne viruses including the COVID-19 virus.
Exhaust fan improvements – The main exhaust air systems have been optimized and placed onto the building automation system. They now work to provide more fresh air to the building and remove unwanted particles. Diluting building air with fresh air has been a proven method to combat the spread of all viruses.
Improved HVAC cleaning procedures – A new cleaning method is being used in all HVAC systems that sanitizes and disinfects the heating/cooling coils and surrounding ductwork. Neutralizing viruses, mold, mildew, and other organic matter as part of our existing preventative maintenance schedules.
The WELL Health-Safety Rating provides a centralized source and governing body to validate efforts made by owners and operators. It leverages insights drawn from the IWBI Task Force on COVID-19, in addition to guidance on the spread of COVID-19 and other respiratory infections developed by the World Health Organization (WHO), U.S. Centers for Disease Control and Prevention (CDC), global disease control and prevention centers and emergency management agencies, as well as recognized standard-making associations such as ASTM International and ASHRAE, and leading academic and research institutions, as well as core principles already established by IWBI's WELL Building Standard, the premier framework for advancing health in buildings and spaces of all kinds.
The XL Center was awarded the WELL Health-Safety Rating following the successful completion of third-party documentation review by GBCI to confirm it has met the feature specific intents and requirements.
International WELL Building Institute, IWBI, the WELL Building Standard, WELL v2, WELL Certified, WELL AP, WELL Portfolio, WELL Portfolio Score, The WELL Conference, We Are WELL, the WELL Community Standard, WELL Health-Safety Rating, WELL Health-Safety Rated, WELL Workforce, WELL and others, and their related logos are trademarks or certification marks of International WELL Building Institute pbc in the United States and other countries.