Tournament Schedule of Events:
March Madness comes to Hartford & the XL Center on March 21 and 23 for the 2019 NCAA Division I Men's Basketball Championship First and Second Rounds. Four first-round games take place on March 21 and two second-round games will be played on March 23. Two teams playing in Hartford will advance to the regional round the following weekend!

First Round- Session 1: Thursday, March 21
- Game 1: Florida State 76, Vermont 69
- Game 2: Murray State 83, Marquette 64
First Round- Session 2: Thursday, March 21
- Game 3: Villanova 61, St. Mary's 57
- Game 4: Purdue 61, Old Dominion 48
Second Round: Saturday, March 23
- Flordia State vs. Murray State **6:10pm tip-off, 4:30pm doors
- Villanova vs. Purdue **30 mins post game 1
Looking for tickets? Premium seating is still available by calling 860-722-9637.

Downtown Hartford Events: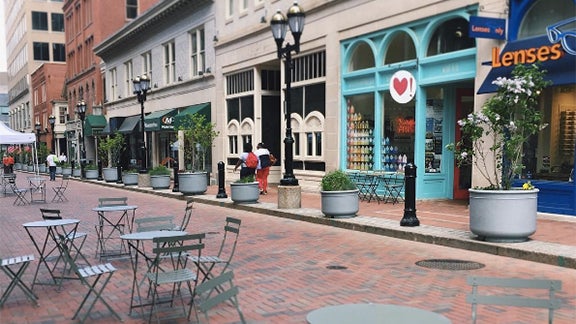 Party on Pratt-
Join March Madness fans for a block party on Pratt Street!
Party on Pratt Street will feature a pop-up pub featuring breweries and distilleries, live music, art performances and local vendors! And don't forget about the number of restaurants that line the street. The Party on Pratt is free and open to the public. All ages are welcome, must be 21+ to drink. For more info, click here!
Hours:
Friday, March 22 - 4-7 pm
Saturday, March 23 - 12-8 pm
Golf Show-
Golf convention at the Connecticut Convention Center!
Looking for another fun activity to do while in Hartford? Visit the Convention Center for the Connecticut Golf Show March 22-24. The event gives golfers their first chance to see and swing clubs, there's free indoor driving range lined with expert reps from the manufacturers in the game, you can compete in fun skills contests, win FREE GOLF and more! For more info, click here!